Interlocking Paver Block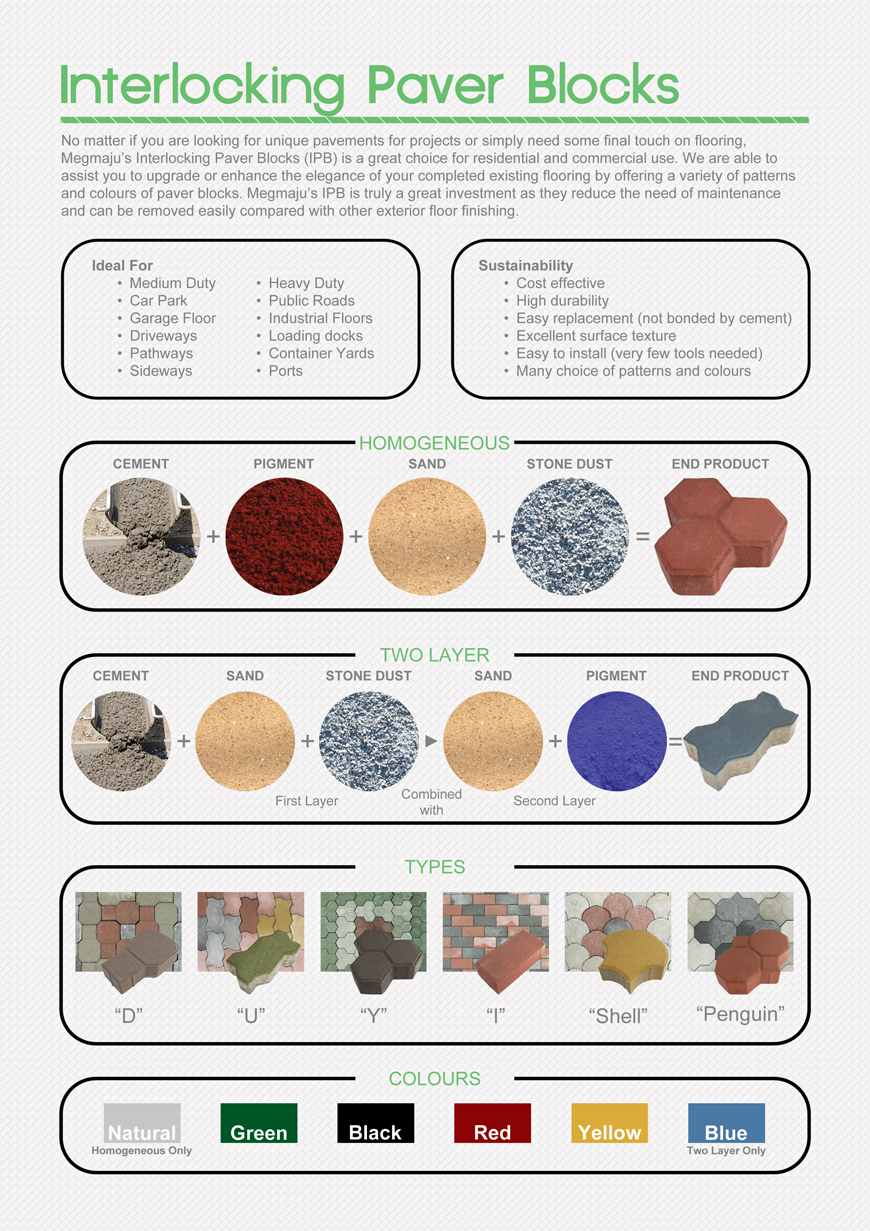 Benifits of Interlocking Paver Block
The benefits of Interlocking Concrete Pavers versus other paving solutions are numerous:
A large variety of paving styles
Multitude of color possibilities
Create your own design
Low cost, low maintenance
30 year + life expectancy
No cracking
3 times stronger than poured concrete
Perfect for freeze-thaw conditions
Pavers move with soil conditions
Fast installation
Design Flexibility
There are many design options available for interlocking pavers. Whether you choose a hexagonal, herringbone or diamond design, there is something to suit all individual tastes. Interlocking pavers can create a casual or formal design depending on your style. They are also available in a variety of colors, shapes and sizes, with a thickness that depends on the type of application.
The many shapes, patterns, and colors of interlocking concrete pavers allow for design creativity, as well as delineation of pavement areas, such as parking lanes, cross walks, and intersections. The beauty of pavers adds value and visual appeal to any property. By adding flexibility not possible with rigid pavement, pavers can flow with existing landscaping to deliver beauty to any property.
Variety of Shapes and Colors
Our suppliers stock rustic stone-like pavers to those that look like clay brick. Color can be used to match a theme or for practical purposes. For example, light colored pavers offer a cooler surface around patios and pool decks.
Initial Paver Installation Cost
Generally, interlocking concrete pavers are less expensive than other types of pavement or even other types of pavers such as granite pavers. When considering maintenance and replacement costs, pavers offer an economical long-term alternative to other types of pavement.
Paver Strength
Concrete pavers are extremely dense units which possess exceptional strength and durability, superior stability under severe loads, and are unaffected by the extremes of heat and frost. Each unit has joints that allow for a small amount of movement without cracking. Factory made pavers last for decades.
Manufactured to tight dimensional tolerances, pavers are stronger than regular poured concrete surfaces and more durable than black asphalt. They can take more abuse and last for many years. An interlocking paving system allows for expansion and contraction without producing surface cracks, unlike monolithic concrete surfaces and stamped concrete.
Easy Repair and No Cracks
An interlocking paver system is so easy to repair. They can be lifted and replaced without much hassle at all, unlike having to repair a concrete slab, where you would have to demolish it and start over again. The maintenance costs involved for this reason are very low.
Not only are interlocking pavers easy to repair, but the likelihood of them being damaged is slim. Each unit has joints that allow for movement, so the chances of cracking are very rare. Remove and reinstall the same pavers with no ugly patches after repairs to the base or underground utilities. Asphalt, concrete, and stamped concrete can't make this claim. Pavers are low-maintenance and offer low life-cycle costs.
Maintenance
Broken pavers can be easily replaced without patches. Ants and weeds in joints can be prevented by using the proper type of sand to fill in the joints between the pavers. Pavers can be repaired by lifting the affected area, re-grading and re-compacting the base and bedding sand and reinstalling the same pavers. It is an inexpensive procedure that leaves no unsightly repair patches.
Pavers are easy to maintain. When properly sealed, a regular sweeping and occasional rinsing are usually the most maintenance needed. For heavy soiling or stains, pressure washing with appropriate clearing solutions or a simple spot treatment with a brush, cleaner, water and some elbow grease will solve the problem.
Weather Resistance
Pavers can be used in any climate and can be walked or driven on immediately upon installation. The joints between the pavers eliminate the cracking common with traditional asphalt and concrete pavements.
Durability
Interlocking pavers are designed with ridges on the wall of the paver. During installation special jointing sand is used between the pavers. When installed correctly, the sand creates the interlock, and the pavers will not shift or sink. They can withstand being walked on and driven on, without buckling. This makes interlocking pavers a very strong and sturdy surface material.
Interlocking concrete pavers are a flexible system and allow for movement. They are almost indestructible, and the pavement system moves in unison with the ground's usual tendency to swell and contract over the long term, thus avoiding any serious damage.
Versatility
Pavers can be applied in both residential and commercial settings, including surface coverings for driveways, parking lots, promenades, sidewalks, pool decks, patios, and walkways. Interlocking paver block are a sensible and aesthetically attractive choice for all outdoor surfaces.
Safety
On both vehicular and pedestrian applications, pavers have a non-skid surface, and even when the pavers are wet, they are safe to walk or drive a vehicle over them.
Easy Water Management
There are permeable interlocking paver block, where vegetation is planted between the grid systems. These pavers allow the re-use of storm water back into the grounds, rather than back into our streets and drains.
Hardscape Maintenance
Does your old paver walkway, patio, or driveway need a spruce up? Perhaps there are weeds growing between the pavers, or an insect problem. Maybe some of the pavers had to be dug up for an underground repair.
When the original installation is performed properly, using the correct materials, a paver installation should last for many years. This sand is swept in dry like ordinary sand and then dampened during a three spray application with a garden hose. The sand bonds together and to the rough edge of the paver joint forming what is known as a "stabilized joint". As a result, there is no ant penetration, no random weed growth, and a solid stable joint.
For rejointing projects, a pressure washing of the old jointing material out of the paver joints and replacing with Polymeric jointing sand will restore the life of your installation.
Stains can also be removed through a pressure washing, and then sealing is a must for the long term life of a paver.
Difference between Paver Block with other materials
Paver Block

Cobble Stone

Clay Brick

Stamped Concrete

Ordinary Concrete

Asphalt

Crushed Stone/ Gravel

Appearance

The widest range of surface finishes, colors, shapes, and sizes. Laying patterns can compliment the architectural style of any home because of the wide variety of styles available.

Gives elegant, permanent, yet informal "Old World" feel.

Traditionally comes in shades of red and red-brown. Limited shapes and sizes.

Surface is usually colored. Patterns designed to give appearance of segmental paving but saw-cut joints may show.

Grey or light brown. Can be colored throughout or on surface only.

Few color options. Achieving neat looking edges may be difficult. Stamped asphalt appears painted and artificial.

Typically a rustic look. Appearance varies with color and shape of stones.

Initial Cost &
Installation

Moderate

Tightly fitted, uniform units are placed over a sand bed and a compacted aggregate base. Immediately ready for use. Can be installed by homeowner or an ICPI Certified Professional.

Highest

Non-uniform units must be fitted together by hand.

Moderate-High

Mortar-set base may be used which increases costs. Natural variations in dimensions may slow installation or cause difficulty in maintaining straight pattern lines.

High

Difficult for homeowner to install. Requires special equipment to stamp stone or paver patterns into surface. Surface sealer often used.

Moderate

Difficult for homeowner to install and requires 5 to 7 days for hardening before use. Surface quality varies with weather and installation.

Low

Installs quickly over compacted aggregate base. Must be professionally installed.

Low

Dumped and spread over soil (no base required).

Maintenance

Low

Stained or broken pavers can be easily replaced without patches. Dark colored pavers can help hide stains. Factory-made pavers last for decades.

Low

High quality stone lasts for decades. Wide joints may encourage weeds and ants. Rough surface makes walking and driving difficult.

Low

Natural surface variations may lead to chipping or possible damage.

Moderate

Cracking may likely develop. Patched repairs may be hard to match to original color. Color fading also possible over time.

Moderate

Cracking may likely develop. Repairs and replaced sections may leave visible patches. Oil stains difficult to remove.

High

Wear and weather will break down surface. Black seal coat required every 2-3 years. Rut or pothole repairs leave visible patches. Subject to erosion from oil drippings.

High

Scattered stone must be replaced and leveled regularly. Ruts from tires are likely to develop.

Winter
Durability

High

Small, high density units resist cracking as well as damage from freeze-thaw cycles and salts. Pavers are stronger than ordinary or stamped concrete.

High

High density stone resists cracking and salts.

Moderate

Salts may cause deterioration in some clay pavers.

Low

Potential for deterioration from de-icing salts.

Low

Cracks from freeze-thaw cycles, settlement and salt deterioration may occur.

Low

Cracks from freeze-thaw cycles, settlement and salt deterioration may occur.

High

Stones resist freeze-thaw cycles and salts.

Snow Removal

Smooth surface allows for easy snow removal. Darker colored pavers help melt snow faster. Snow-melt systems can be easily integrated to eliminate snow and ice removal.

Rough surface makes plowing difficult.

Smooth surface allows for easy snow removal. Darker colored pavers help melt snow faster.

Uneven surface of some patterns and textures may make plowing difficult.

Smooth initial surface allows for easy removal. Light colored surface may not melt snow rapidly.

Smooth surface allows for easy removal. Dark surface accelerates snow melting.

Stones and surface may become uneven during plowing.